Seller Index

5
Rating:
Product quality

5 Stars

Flat----

Service

5 Stars

Flat----

On-time shipment

5 Stars

Flat----
Company Name

:

KEZHUO
Location

:
Telephone

:

8618929500788
Business license

:
Professional Smart interactive whiteboard screen manufacturers
Main functions:

1, All in one computer, whiteboard, projector, speaker advertising machine, multifunction in one equipment.
2, Support 10 points IR touch (20 points touch option): Adopt super sensitive touch panel, increase the touch accuracy, and it can stand more than 35 million time secure touch without any uncontrolled space. Touch easily and control perfectly.
3, 1920*1080 FHD / 3840*2160 UHD resolution: high definition LED screen, LG A+ grade 1.07B colour original panel, AWB TECH, suit for universal application scenarios.
4, 4mm explosion-proof tempered glass: 4mm Ultra-Thin rating 7 glass can protect screen effectively.
5, Infrared touch screen with aluminum plate, small heat, fast heat dissipation, which can effectively extend the life of panel.
6, Dual core processor: windows and android dual system built-in design. Both systems can achieve whiteboard writing and multimedia playing.
7, Fast response speed: 0.8ms fluent writing and demonstration. More convenient courseware management. Accurate, fast touch, no delay.
8, Intelligent writing&Touch control: the writing function interface can realize the functions of writing, magnifying, shrinking, erasing, dragging, and the like.
9, Screen-mirroring with android phone, iphone, ipad , computer, etc.
10, Supporting connecting WIFI and sharing hot spots at the same time. Comes with double WIFI, common module and dule frequency. 5G signal high-speed access, while sharing hot spots.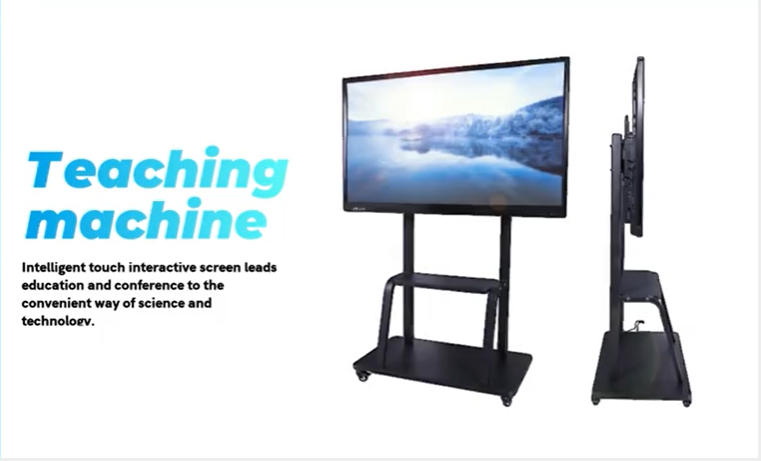 Product Features:
1,According to the distance from the seat to the smat whiteboard, you can choose different size smart whiteboard.
2,We will provide professional sales consultant guidance and provide the most suitable chip solution for you.
3,Our devices can be applied to both Android and WINDOWS applications
4,The precise infrared touch sensor function makes it possible to write by hand. Can be easily erased by gesture
5,Not only can screen projection wirelessly, but also can be remotely controlled by computer, which is more convenient and fast, and open the screen projection computer file at any time