For the product price and more details, please contact us
Product Description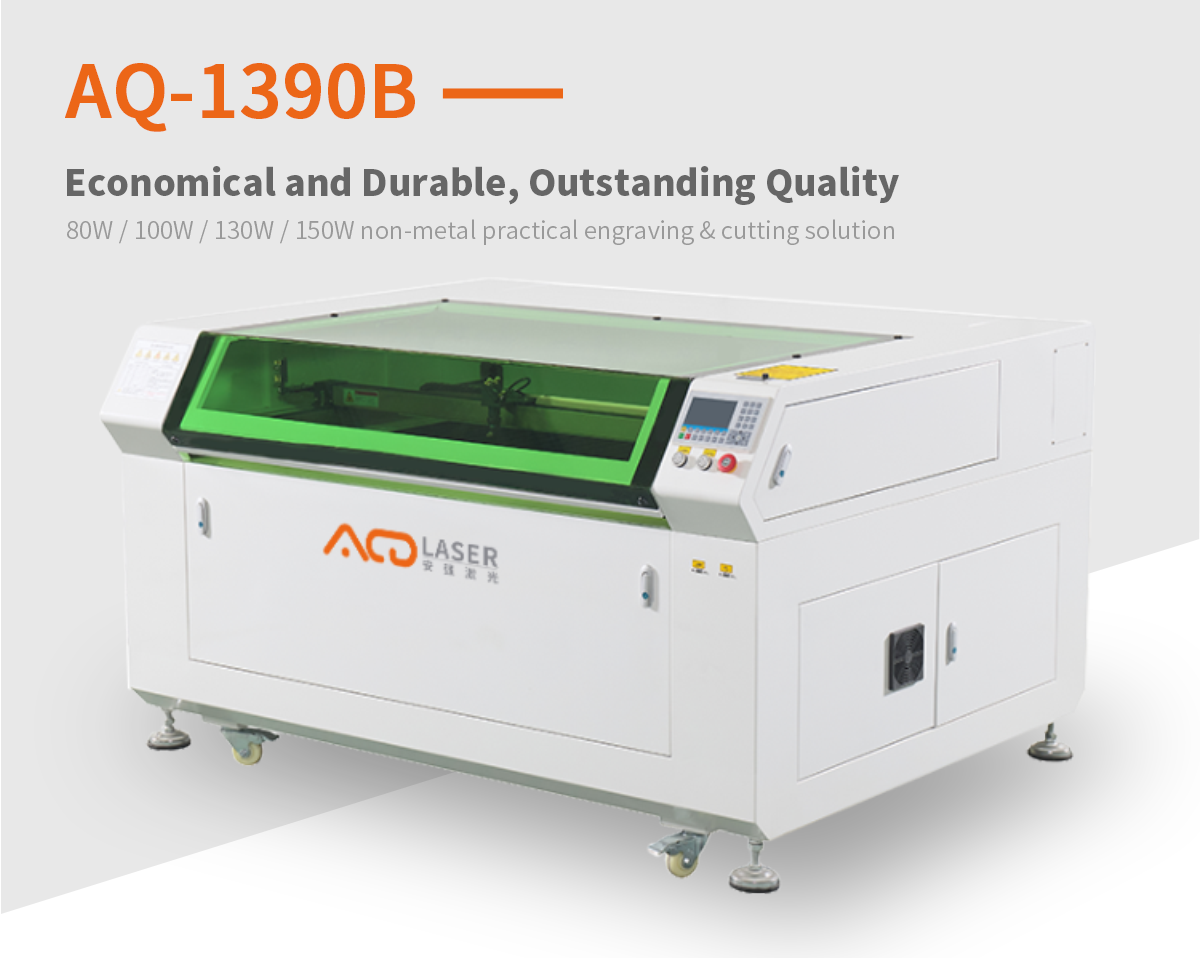 The 1390B laser engraving and cutting machines from AQ Laser combine our top-of-the-line technology to help every user working in safety with high speed.
◆Transmission structure: high-precision sliding block transmission, 40mm belt, more uniform traction, higher precision, fully enclosed beam, no noise, dust-proof, and low vibration.
◆Use a large acrylic cover, easy to observe working conditions, and more beautiful.
◆Add open-cover protection function to avoid laser burns, so that the machine run more safely.
◆After years of verification, this model is stable and efficient, with low failure rate.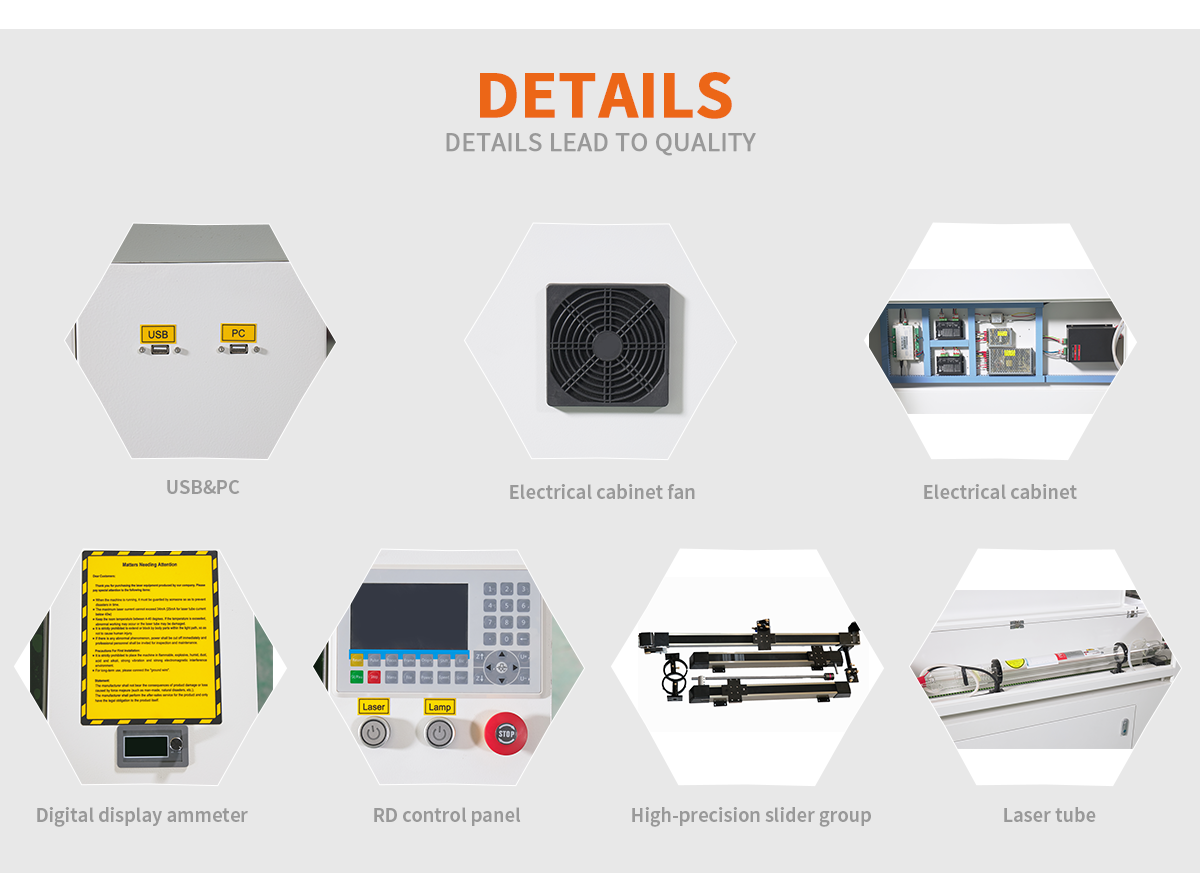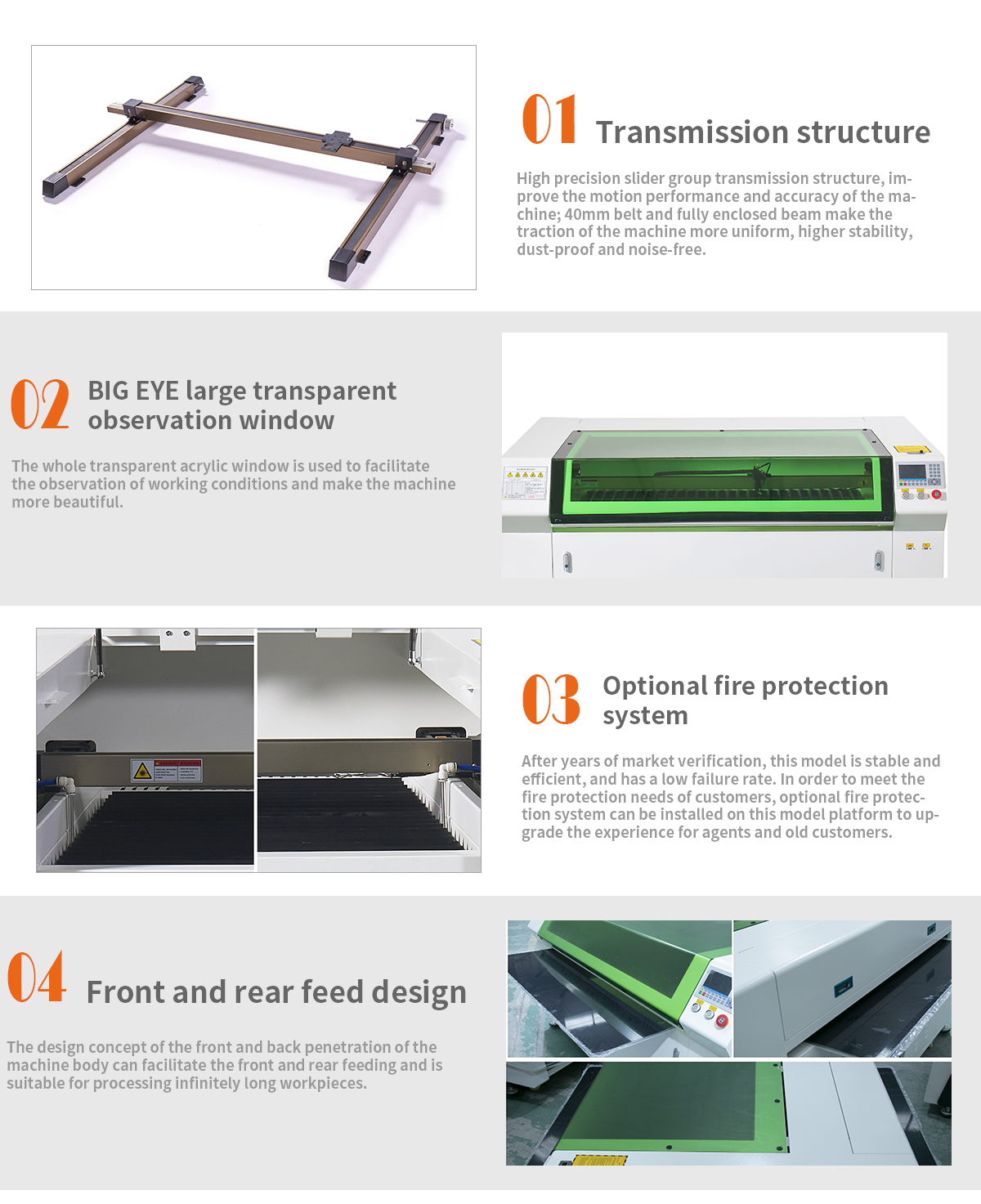 What's included of machine auxiliary accessories
◆CW5000 industrial water chiller
◆550W extraction fan
◆160W air pump
◆Toolbox
To meet your different cutting and engraving demands, we have some options for your choice to improve your machine.

Technical Parameters
Engraving / Working Area
1300x900mm
Laser Source

Sealed CO2 gas filled glass tube,standard 40w with stringintly tested.

Average lifespan is 2000-4000 working hours.

Electrical Requirements
Standard 220v AC 50Hz Single Phase, customized based on your local voltage is available
Compatible Software
CORTLDRAW、PHOTOSHOP、AUTOCAD,Compatible with Windows, Mac, and Linux
Motorized Table
Standard solid metal blade knife blade bed, or removable honeycomb. Both are available.
Laser Heads
Professional adjustment special head
Exclusive transmission
High-precision sliding block transmission
Advanced fireproof
Fireproof protection system
Motion Control
LeadShine Stepper Motors with engraving speeds up to 1,000mm/s
Belts
Advanced wide 3M precision drive belts.
Water Chiller
CW5000
Air compressor
160w air pump
Ventilation
550W Extraction fan
Warning Light
Visible red / green light on machine so you know when job is finished
Resolution
Fully-flexible and user-controlled from 75 – 1200 dpi
Speed and Power
120 IPS (3.05m/s) with 5G acceleration. Computer-controlled in .001 increments up to 100%. Color mapping feature links Speed, Power, Frequency, and Raster/Vector mode.
Working precision
Location precision <0.01mm

Minimum character size 1.5mm x 1.5mm

Typical design software Adobe Illustrator, AutoCAD, Corel Draw, 2D design

Preferred file types .dxf, .plt

Safety device
Open cover protection, fire protection, no-water protection, heat alarm system, separately keyed main power switch
Machine Size
Advanced split structure to save more cost in shipping.

Complete size 1820*1440*1060mm

, package size 1920*1550*1200mm.


Weight
400kg
Warranty
12 months onsite excluding consumables (laser tube and optics).
Application
Products made by AQ Laser

Below are just a few examples of products that have been made with AQ Laser machines.
We can also make samples according to customer needs.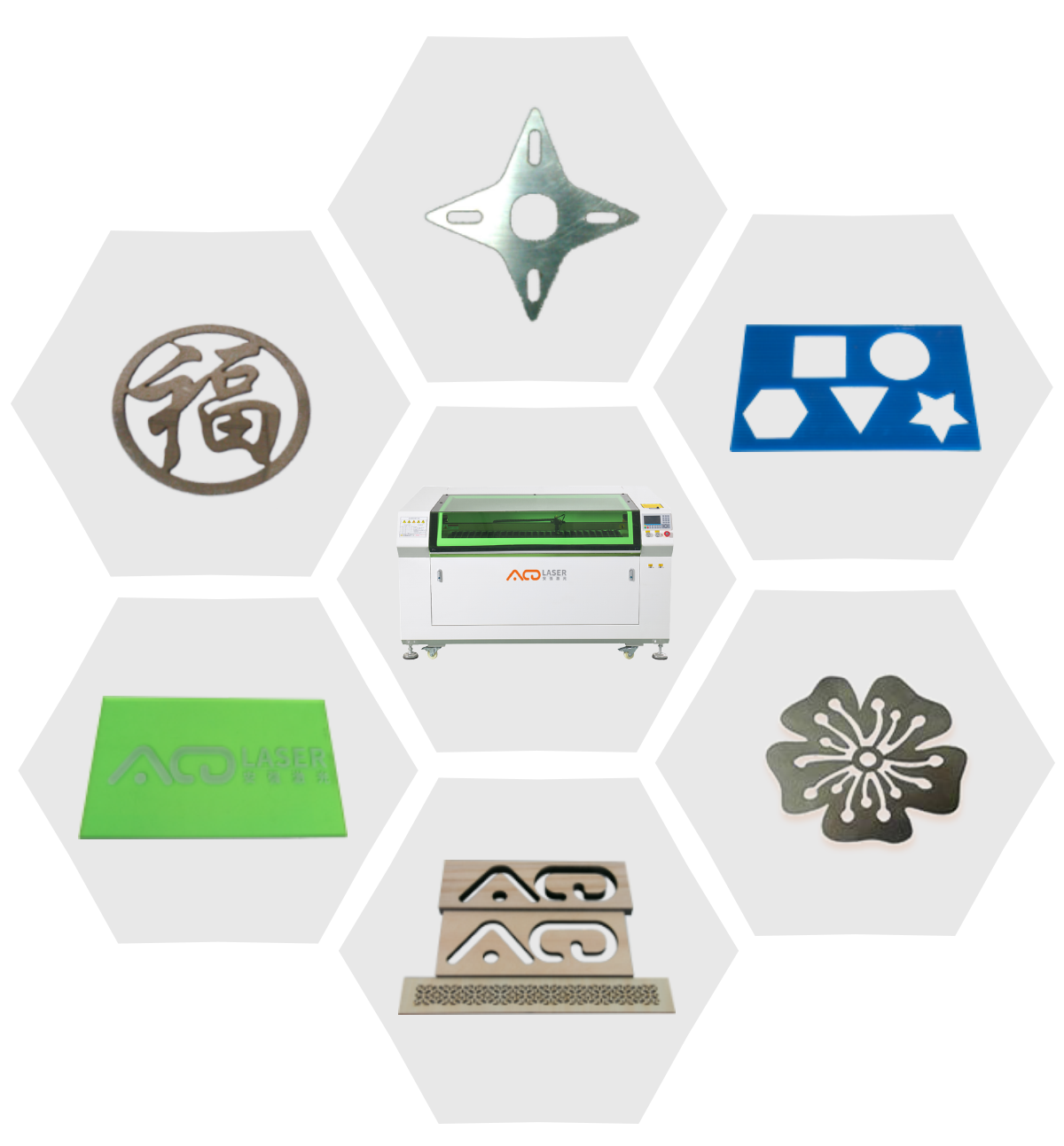 | | | |
| --- | --- | --- |
| Engrave | Cut | |
| Wood | √ | √ |
| Acrylic | √ | √ |
| Fabric | √ | √ |
| Glass | x | x |
| Coated Metals | x | x |
| Ceramic | x | x |
| Cloth | √ | √ |
| Leather | √ | √ |
| Marble | x | x |
| Matte Board | √ | √ |
| Paper | √ | √ |
| Mylar | √ | √ |
| Pressboard | √ | √ |
| Rubber | √ | √ |
| Wood Veneer | √ | √ |
| Fiberglass | x | x |
| Painted Metals | x | x |
| Tile | x | x |
| Plastic | √ | √ |
| Cork | √ | √ |
| Stainless Steel | √ | √ |
The acrylic CO2 Laser Cutting Machines wood furniture laser engraving machine 1390 9060 1610 For Nonmetal engraver is affordable in different working area. It can meet different needs of users which is used to cut and engrave metal and non metal materials like mdf/acrylic/cloth/paper/aluminum etc. and various processing honeycomb table or auto-feeder table or up down lifting table or knife table is made according to your materials. With the protective cover of the co2 laser cutting machine, the processing production is more environmental friendly.
Delivery Process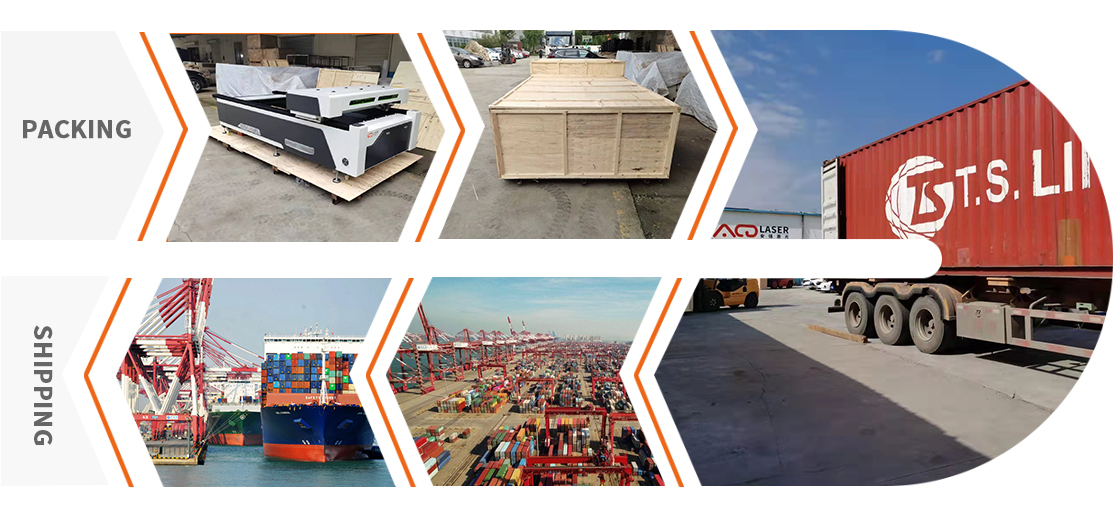 About AQ Laser
AQ Laser offer a rapidly increasing range of designed and manufactured laser machines to suit your needs, Whether you're an individual, startup or a large corporation, we offer affordable laser machines to suit all budgets. Laser systems are becoming a vital part of a modern workshop or production facility. Start your journey into the world of co2 laser machines by working with the right company. Please select from the below categories for more information, or contact our friendly sales team to speak to us for advice on the best machine for you.