For the product price and more details, please contact us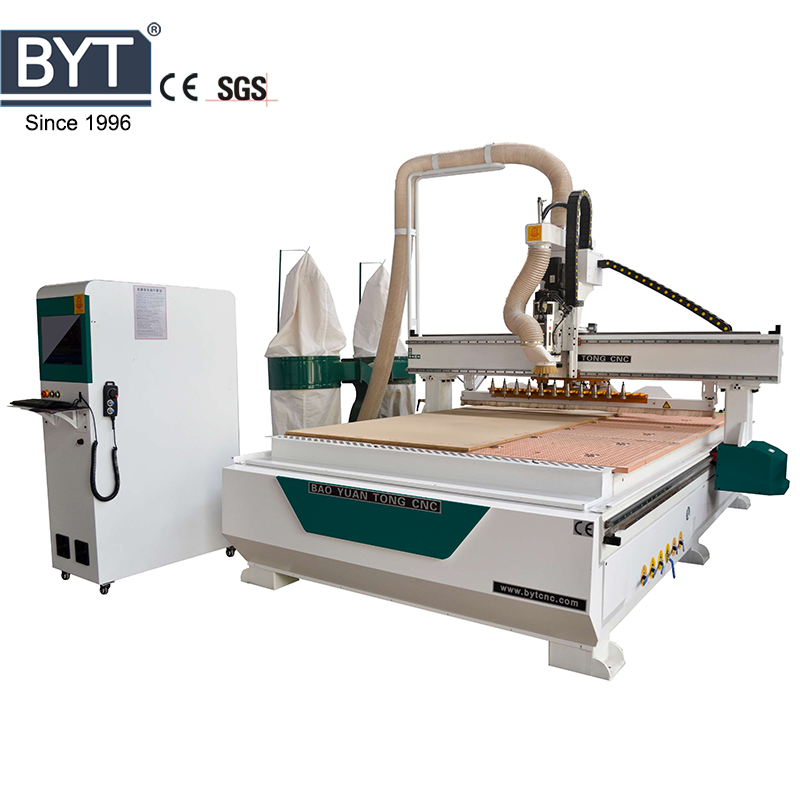 Automatic tools change CNC router engraving machine
Application:
Wooden industry
furniture decoration, musical instruments, wooden crafts, solid wood furniture, MDF pain free door, wood composite door, cabinet, kitchen doors, windows, etc.
Decoration Industry:
The machine can be used for woodworking Art model, wall art, screen relief engraving and cutting,decoration processing, gifts wrapping, waved plate,electrical cabinets panels, sports equipment, and other wooden industrial products.
Sign-making Industry:
Acrylic, double color plate, PVC, ABS board, aluminum plate, density board, artificial stone, organic glass, soft metals like aluminum and copper, cut matrix, character, signs, trademark etc.
Features:
1.Working bed:the bed adopts heavy-duty bed, CNC five-sided milling, high precision and good stability
2.Spindle: The spindle motor install 9kw tool-changing air cooling spindle and use imported bearings. The tool magazine adopts a 12-tools.
3.Axis drive way:X ,Y axis use precision rack drive, z-axis is TaiWan TBI screw drive; the square guide rails use Taiwan SHAC original 30 guide rails
4.Motor & Reducer: .Install DORNA 1.2KW servo motor as Z-axis driver ,DORNA 750w servo motor as X,Y axis driver ,Use Germany Nigel or Japan DORNA reducer.
5.Control system:The control system adopts Taiwan LNC system, easy use and very convenient operation
6.Limit and Relay:Japan Omron limit, France Schneider original relay.
7.Chain line:Chose super soft drag chain line ,it can afford bending more than 300.000 times.
8.With Vacuum adsorption platform:30mm thickness vacuum suction table, multiple suction ports with large suction, can process small plates
9.Vacuum pump and dust:Install 7.5kw or 11kw pure copper wire high-power vacuum pump, 4kw double bags dust collector.
10.Equipped with 3 + 2 vertical positioning cylinder, with automatic pushing device, automatic feeding function.
Other detail photos about BMG-ATC:
1. Locating tab : Few pieces locating tabs on platform ,assist the positioning
2. Emergency stop switch: The switch is installed at the rear of equipment for easy and safe operation.
3. Hand pulse generator : Replace part of function of operation panel to facilitate the equipment operation.
4. The tool setting gauge: Save working time and improve working efficiency.
5. Auxiliary feeding platform
6. Automatic oil mist lubrication system