-A new laser source basic wash light with a great advantage in surface/back/side/ceiling and long distances lighting.
POWER SUPPLIES
Input power: AC 100-240V 50/60Hz
Max power consumption: 250W/500W/750W
Light source power: 24W/48W/72W
Light source model: HY-G-24/48/72 IP66 Laser source
Light source weight: 8.3KG
Lumen failure: 20000hrs≤10%
Light density: 6000/12000/18000LM/sqmm
Lifespan: 30,000hrs long lasting
Light source cooling: Air-cooled
Hotspot features: Gaussian distribution@near-point, uniform distribution@far-point
Laser source max illuminance:
500000/1000000/1500000lux ±1.5% @8000mm from lens @spot diameter 150mm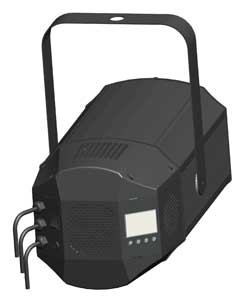 EFFECTS SECTION
3 color wheels with each 9 colors+white/half color with rainbow effect
Optional circle or square output without any visible hotspots
Linear 0-100% dimmer through PWM
Flash by the laser itself, 0.3-30times/sec
Working environment: -20°~+60°
Light source storage environment: -10°~+85°
Laser starting system @high-low temperature @7*24hrs for non-stopping work with no lamp explosion
Laser source output temp: <20° @100mm from lens
<40° @5000mm central point from lens
Light spectrum: The laser wave length is 455nm-700nm, all in visible range.
No UV&IR and radiation including

The parameters above are only for reference, please be subject to the available products.