Fiber Laser Cleaning Machine 1000W 1500W 2000W
Name:Fiber Laser Cleaning Machine
Model:LC-1000S
Linkage: Continous Laser Cleaning Machine Video
The CCILASER LC-1000S fiber laser cleaning machine is one kind of high-tech new generation product for surface cleaning.
DESCRIPTION
n Fast and concentrated pulse with a high power impact and vaporizes the residue on the surface;
n The laser pulse is very suitable for the removal of organic substances, such as dirt remaining on the tire mold;
n Short-term impact does not warm the metal surface and does not damage the substrate.
Main parts and brand as follows
| | |
| --- | --- |
| Fiber Laser | IPG/ RAYCUS/ MAX (U.S/ China made) |
| Laser Cutting Head | RAYCUS/ QLASER (China made) |
| Electric Parts | SCHNEIDER (France made) |
| CNC System | RAYCUS (China made) |
| Water Chilling Unit | S&A (China made) |
Application Field:
Marine industry, auto parts, rubber molds, high-end machine tools, tire molds, rails, environmental protection industry and other industries.

Application Case: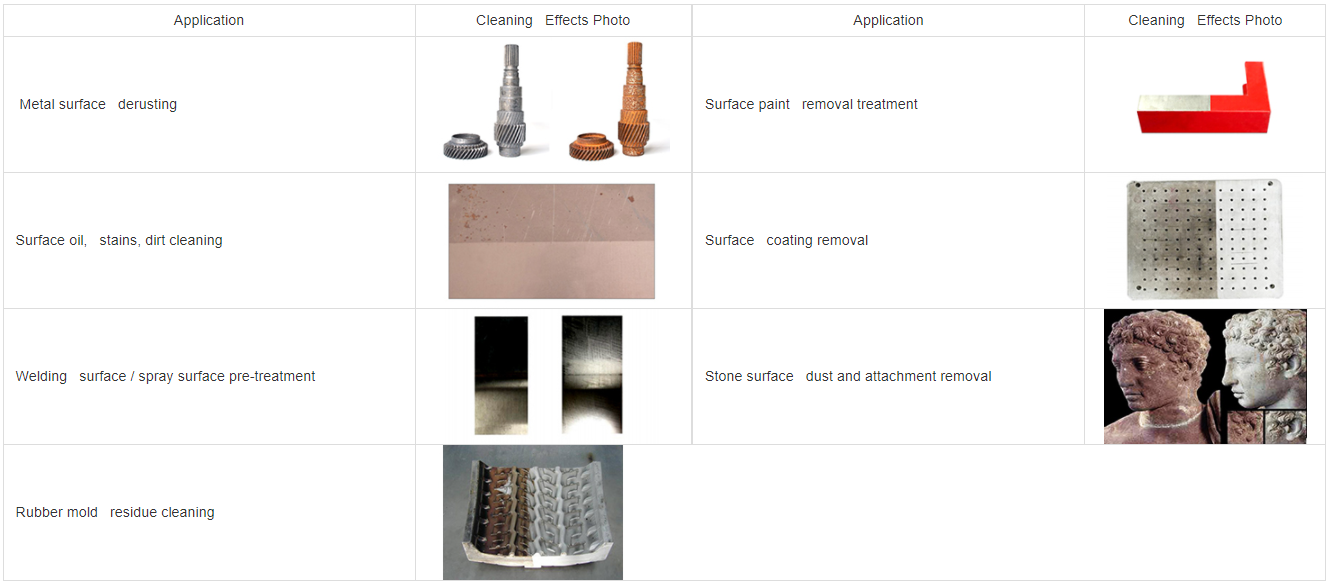 TECHNICAL ADVANTAGES

Ø Clean or remove the surface paint layer quickly and smoothly.
Ø Accurate cleaning and paint removal effects;
Ø No damage to the substrate;
Ø Low cost;
Ø Investment recovery is fast;
Ø No need to sand grit or chemical;
Ø The equipment does not need to be set up;
Ø Maintenance free.
SPECIFICATIONS
Technical Parameters
Model
LC-500S
LC-1000S
Power Supply
AC 380/220V 50/60Hz
AC 380/220V 50/60Hz
Control Way
PC Control
PC Control
Air Pressure
3L / min (clean air)
3L / min (clean air)
Working Environment Temperature
5-40℃
5-40℃
Working Humidity
<90%
<90%
Weight
200Kg
500Kg
Laser Class
Class IV
Class IV
Laser Medium
Fiber
Fiber
Laser Power Rate
500W
1000W
Laser Wavelength
1064nm
1064nm
Pulse Frequency
10-30, Typ 20Khz
10-30, Typ 20Khz
Fiber Length
10m
10m
Beam Width
<1mm
<1mm
Cleaning Width
50-150mm
50-300mm
Cleaning Way
Handheld
Handheld
Optional Item
Dust purification apparatus, Air compressor
MACHINE FUNCTION COMPARISON
<td align="center" valign="middle" width="245" style=&qu<td align="center" valign="middle" width="245" style="box-sizing: border-box; margin: 0px; padding: 0px; -webkit-tap-highlight-color: rgba(0, 0, 0, 0); border-left: none rgb(192, 0, 0); border-top-color: rgb(192, 0, 0); border-right-color: rgb(192, 0, 0); border-bottom-color: rgb(192, 0, 0);&quot
Item
Laser Cleaning
Chemical Cleaning
Mechanical
Dry Ice Cleaning
Ultrasonic Cleaning
Grinding
Cleaning Type
Laser
Chemical Cleaning Agent
Mechanical/
Dry Ice
Cleaning Agent Contact Type
Non-contact Type
Contact Type
Sand paper
Non-contact Type




Contact Type


Work piece Damage
No Damage
Low Damage
Low Damage
No Damage
No Damage
Cleaning Efficiency
High
Low
Low
Middle
Middle
Consumables
Electric only
Chemical Cleaning Agent
Sand Paper/
Dry Ice
Special
Grind Wheel
Cleaning Fluid
Cleaning Effects
Perfect
Normal
Normal
Good & Nonuniform
Good & Small Cleaning Scope