10W~50W Flash animation
Suitable for outdoor use, the body has overheat, overload, short circuit, pressure loss protection, shock proof, waterproof LED electronic address setting and display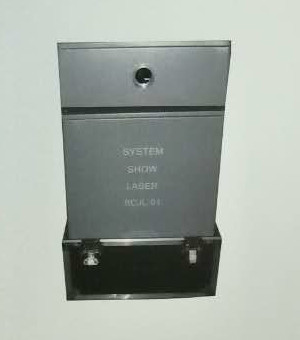 Laser lamp parameters:
Working voltage: AC220V / 380V 50Hz / 60Hz can be customized for each country
Light source: the laser head is equipped with power of 10W~50W
Control: special computer control, can edit pattern text, with editing software store pattern card complete set, store more than 100 kinds of patterns such as add new patterns and delete old patterns
Scanning Angle: horizontal vertical scanning 230 ° 360 °
Functions: IP65 protection grade, especially suitable for outdoor environment, the body has the protection of overheating, overload, short circuit, pressure loss, anti-shock, waterproof LED electronic address setting and display
Light Angle: 9 ° manual adjustment Angle, and 25 °
Laser lamp accessories:
Us SOE semiconductor green laser transmitter (set)
German CF35 mega galvanometer (two sets)
Germany CF programming software (set)
Air cooling system (set)
Mobile air boxes (set)
German CF controlled computer (set)
Remarks:
1. Many of our customers have used laser lights, and the effect is very good.However, many customers are the first time or do not know about outdoor laser light demonstration, so we have written a suitable use specification;
2. The darker the laser effect is, the brighter the laser effect is;
3. If the power is small or not large enough, it is better not to use other lighting and other field lamps, because other lighting is too strong, which will mask the effect of laser lights.If the laser lamp is of high power, the stronger the light is, and the longer the range is, the use effect of laser lamp, light, projection, fireworks, etc. can be more beautiful.
4. The green laser with the same power is stronger than the full-color laser. The green laser is monochrome, which is not as beautiful and colorful as the animation effect produced by full-color laser.
5. There are two types of laser lamps: animation graphics and landmark beams. Laser animation is to realize the formation of animation images through bearing carriers such as solid white curtain, gauze screen, water screen and projection screen.The beam is sprayed at high altitude through air fog and ash to present the beam effect;
6. Tip: the projection range of the laser light hitting the landmark with great power should be raised to avoid damage to people.
| | | | | | | | |
| --- | --- | --- | --- | --- | --- | --- | --- |
| Power | Package Size | Light bady size | GW | NW | Range | Performance | Wave lenghth |
| 10w | 66*66*108cm | 60*60*98cm | 60kg | 45kg | 10km | 3km | 532nm |
| 15w | 66*66*108cm | 60*60*98cm | 60kg | 45kg | 11km | 3.5km | 532nm |
| 20w | 66*66*108cm | 60*60*98cm | 60kg | 45kg | 12km | 4km | 532nm |
| 30w | 66*66*108cm | 60*60*98cm | 65kg | 50kg | 15km | 5km | 532nm |
| 40w | 66*66*108cm | 60*60*98cm | 65kg | 50kg | 20km | 6km | 532nm |
| 50w | 66*66*108cm | 60*60*98cm | 65kg | 50kg | 25km | 8km | 532nm |